John Meehan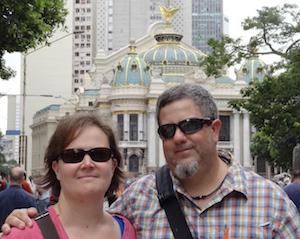 John works with The Blue Devils organization as Brass Caption Head and Arranger for the 18 time D.C.I. Champion 'A' Corps, as well as Music Director and Arranger for the 'B' and 'C' Corps. Since joining the staff in 1994, John has helped the 'A' Corps win 12 D.C.I. Championships and 12 Jim Ott High Brass Awards.
John has been composing and arranging since 1992. Current clients include Allen High School (TX), American Fork High School (UT), Clements High School (TX), Eden Prairie High School (MN), Homestead High School (CA), and the Yokohama Scouts Drum & Bugle Corps (Japan), while past clients include Ayala High School (CA), James Logan High School (CA), McQueen High School (NV), and the Pacific Crest Drum & Bugle Corps. Clients of John's have won numerous State marching band titles, as well as Bands of America Regionals, and been finals at the Bands of American Grand National Championships.
Other non-pageantry writing includes composing for the album "The Music of WYLAND", scoring the film "Mind Games",
writing two spots for Kaiser Permanente, and being
commissioned to compose several wind ensemble pieces.
Notable career achievements include lead designer for both the System Blue and King marching brass instrument series, development and production for the Sample Logic and System Blue sound libraries, and performing (as a percussionist) on the movie soundtrack "Monsters University".
John is a System Blue artist, and exclusively uses Sibelius.
John lives in California with his wife Jackie, their 3 daughters,
and two rescue dogs.