Scott Johnson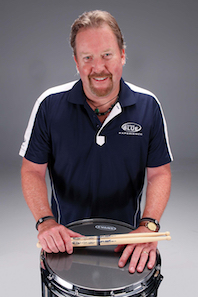 Scott's musical training began at the age of four when he began taking drum lessons from a local percussion instructor. At the encouragement of this instructor he became involved in the Drum and Bugle Corps activity. Before his fifth birthday, Scott joined the Red Knights Drum and Bell Corp. and later graduated to the Royalairs Drum and Bugle Corps. Scott remained with the unit until he joined the Blue Devils Drum and Bugle Corps at age 18. He was a marching member in the Blue Devils snare line from 1976 through 1979. He became a member of the Blue Devil staff as a Percussion instructor from 1978 through 1989 and later rejoined the organization in 1994 as Director of Percussion and Percussion Arranger. Scott is also the former Percussion Arranger for Riverside Community College, as well as the arranger for Beatrix Drum Corp. from Holland, San Francisco Renegades Drum and Bugle Corps, and arranger for many drum corps and marching bands in the United States as well as in Japan.
During his time away from the Blue Devils, Scott was hired as Director of Percussion and Percussion Arranger for the Santa Clara Vanguard Drum and Bugle Corps from 1991 through 1993, after one year as percussion consultant in 1990.
Personal awards include seventeen D.C.I. Gold medal championships, fourteen D.C.I. High Percussion titles, two W.G.I. Gold medal championships, three DCA Gold medal championships, two DCA High Percussion titles, ten DCE championships, nine DCE High Percussion titles, ten High Percussion titles in Japan, and 1977 D.C.I. & P.A.S. IndividualSnare champion. Scott is very honored to have been inducted into the 2012 class of the DCI Hall Of Fame, the 2012 WGI Hall Of Fame, and the 2015 World Drum Corps Hall Of Fame.
Although the primary focus of his teaching career has been in the Drum Corps idiom, Scott has taught privately and arranged percussion scores at the elementary, junior, senior high, and university levels.
Scott's judging assignments have included numerous marching band and percussion competitions throughout the world, including P.A.S. championships, W.G.I. championships, South African Championships, Indonesia Championships, and the Bands of America Grand National Championships.
Scott is one of the most sought after Marching Percussion clinicians in the world today. He has held numerous percussion clinics throughout the United States, Japan, Canada, Belgium, Germany, Holland, Scotland, South Africa, South Korea, Indonesia, Guatemala, Costa Rica, Australia, Italy, and China.