Bill Castillo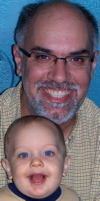 Bill Castillo is currently the Percussion Director for Belleville East High School in Belleville, IL. He has held that position since 2003. He oversees all aspects of the percussion program. In addition, he also arranges the drumline and front ensemble books for the Marching Lancers as well as arranges music for the percussion ensemble concert. His drumlines and percussion ensembles have won numerous awards across the country. He also works with the middle schools that feed into the high school program. He has held similar positions at Wentzville High School and Belleville West High School.
Bill has taught camps at Truman State University. He has performed with various ensembles in the St. Louis area and given percussion clinics across the state. Bill spends time working on projects for JKS Music as well as Tapspace Publications.
Bill is an active member of the Percussive Arts Society and Phi Mu Alpha Sinfonia, a professional music fraternity for men. He is also a proud endorser of Innovative Percussion Sticks and Mallets, Pearl Drums and Adams Keyboards, and Remo Drumheads.
Shows with percussion by Bill: